Terms & Conditions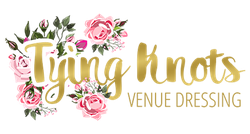 Chair Cover and Sash Hire
Deposit & Payments
A 50.00 standard deposit is required to secure the date of your event & to secure materials on that particular date.
No booking is guaranteed until a deposit is received. Provisional bookings are released, without warning, after 30 days where a deposit has not been paid.
In the event that there is an increase in prices at Tying knots venue dressing , where a deposit has not been paid you will be charged the new prices (you'll be notified of such changes before-hand). Said deposit is non-refundable & is subtracted from the final amount owed.
The final total payment/balance is required in full 4 weeks prior to the event (unless otherwise agreed) and can be paid by cheque, cash or bank transfer.
Refundable Damages Deposit
A damages deposit (also known as damages fee) is required on all bookings. The damages deposit is refundable and the price varies depending on what is hired. The damages deposit is refunded to the lead contact on return and after inspection of hired materials.
If damage or loss occurs the hirer/lead contact must pay the replacement value of said product(s). Excluding washable stains. This will be deducted from the damages fee. If the amount should go over the damages fee, you will be then charged for the remaining amount owed.
Standard laundering of hired items is included within our prices. This includes stains from food and drinks and light scuff marks from shoes. We consider these stains as part of an event and will therefore not invoice additional charges to the lead contact after the event. However, if upon inspection after your event we find that irreversible or damage through mistreatment has been caused to our hired items for example footprints, evidence of guests drawing on the linen, cigarette burns, candle wax, excessive food and drink stains and mould / mildew, rips or tears then this will result in tying knots issuing the lead contact an invoice to replace the damaged stock.
Hired Products & Items
The total number of covers/items either collected from Tying knots or fitted and left at your venue is what we expect to receive/collect after your event. If loss occurs we will first contact the venue to locate any lost item(s). If however, the item(s) is/are not recovered, we will invoice the lead contact, please see above.
It will be the sole responsibility of the lead contact to look after our items before, during and after the event. All items remain the property of tying knots.
Cancellations
Tying Knots understand that cancellations may occur due to various reasons. Where a cancellation is issued, you will unfortunately forfeit your deposit. If cancellation occurs within a month prior to the event full payment is still required. Cancellations outside of this time do not require any additional payments.
Any products already purchased especially for your event, or for any sample, where cancellation occurs, will still require payment. You may also be charged for any bank charges incurred from BACs & Cheque payments.
Public Liability Disclaimer
Tying knots will not be held responsible for any injury sustained by any hire item, we are fully insured with public liability insurance.
At all times during your event the hired items remain the property of Tying knots.
Payments of your deposit when we receive your booking form/confirmation email, is deemed that you have read and understood these terms and conditions of hire.
Please do not hesitate to contact us if you have any questions or want clarification on anything mentioned above.
Kayleigh Doyle
Tying knots Venue Dressing
07875972420